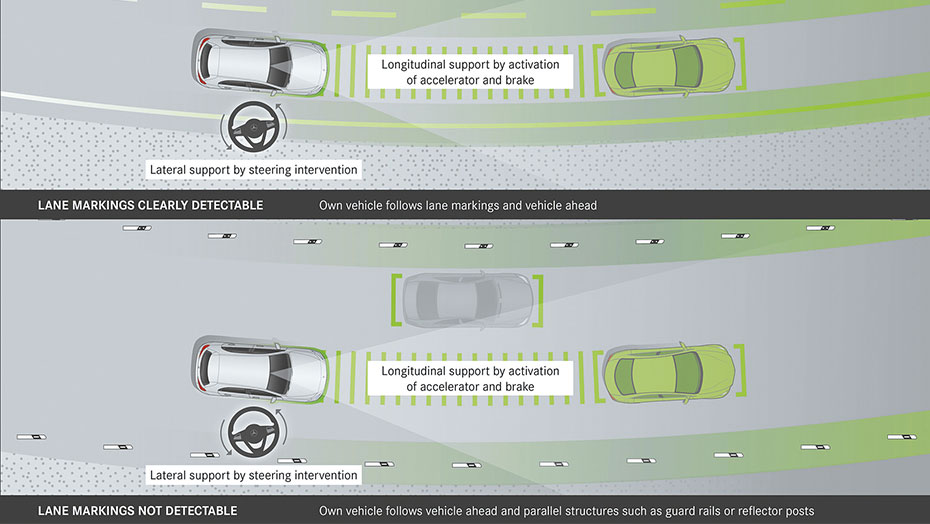 Enjoying the thrilling performance and refined luxury is what driving a Mercedes-Benz is all about. At Mercedes-Benz of Asheville, we also highly value your safety on the road, which is why we offer new Mercedes-Benz vehicles that come with innovative safety functions. When you visit our Mercedes-Benz dealer near Woodfin, you can see these exciting safety features for yourself.
Active Distance Assist DISTRONIC®: This clever feature allows you to select a safe distance between your car and traffic ahead of you. When you do this, your car will automatically keep a safe distance between yourself and the vehicles ahead, braking and accelerating to maintain that distance. Your Mercedes-Benz will even be able to come to a complete stop if traffic suddenly stops as well.
ATTENTION ASSIST®: This advanced system is the first of its kind to help you avoid unsafe driving altogether. By measuring certain aspects of your driving early on in your journey, this system can detect signs of fatigue later on. If these signs are detected, the system will give you alerts, encouraging you to rest before continuing on your drive.
Active Blind Spot Assist: Sensors placed on multiple parts of the exterior detect when other vehicles on the road are in either of your blind spots. When this happens, a light will show up on the corresponding side mirror, giving you a quick way of knowing when it is unsafe to switch lanes. If you attempt a lane-change at this time, you will hear an alert and feel vibrations on your steering wheel warning you of danger. Your car can also steer you back to safety as well.
These are just a few of the many amazing advanced safety systems you can find on our new Mercedes-Benz vehicles. Contact us today to learn more!